Articles
Premium Version Only
Display players statistic in the interactive table (sorting, filtering, column reordering).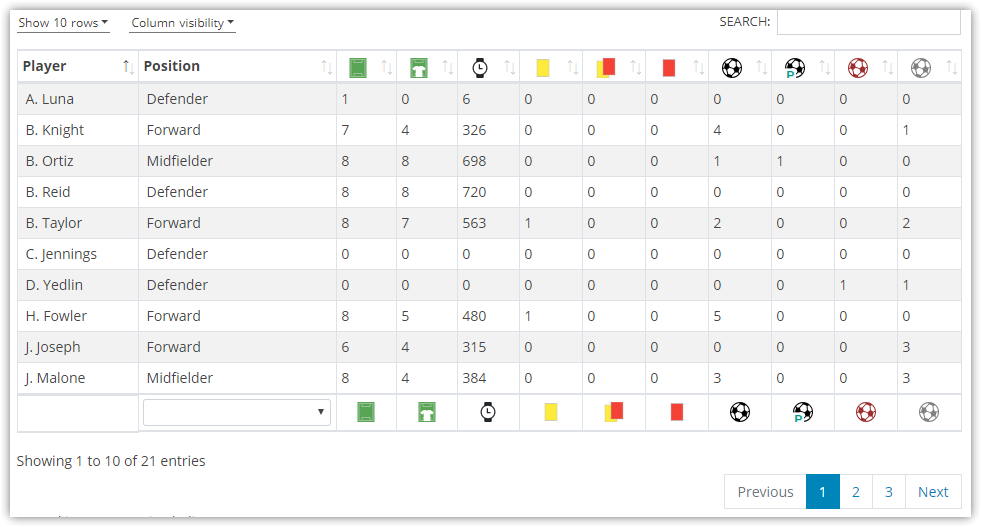 [anwpfl-stats-players season_id="" type="" rows="-1" club_id="" links="0" competition_id="" multistage="0" sections="" caching_time=""]
Shortcode Attributes
season_id – (optional) Season term_id.
type – (optional) "g","p" or " "(empty, default) – show player, goalkeepers or all. Empty to show all. Recommended to create 2 shortcodes: first – for goalkeepers, second – for other players. They differ with some columns.
rows – (optional) – number of rows per page. Available options: 10, 25, 50, -1 (for all). Default: 10
links – (optional) "0" - no or "1" - yes. Show links to player profile. Default - 0.
club_id – (optional) filter by club ID.
competition_id - (optional) specify competition ID
multistage - including stats from all stages. You have to select the first (main) stage in competition ID. See screenshot (since 0.10.2)
sections - show only selected sections. Empty - for all. Available options: club, position, appearance, minutes, cards, goals, goals_penalty, goals_own, assists, goals_conceded, clean_sheets (since 0.11.0)
caching_time - caching time in minutes for this DB request (since 0.11.0)

---
Recommendation for big data
If you have a lot of players, I recommend to
1) Set caching time - (caching_time option) to 60 minutes or bigger.
2) Set the number of rows to 10 or 25.
3) Do not use all sections. Set sections you really need. Recommended to miss: club, position. minutes, appearance.
Related Articles