Articles
STEP 1 >> INSTALL REQUIRED CMB2 PLUGIN
Click Begin installing plugin link or manually install CMB2 from WP repo – https://wordpress.org/plugins/cmb2/

STEP 2 >>CREATE SEASON AND LEAGUE

Go to the Competitions >> Leagues and create a new one. Then go to Competitions >> Seasons and create a new season.
 Info  Recommended season name is "YYYY" or "YYYY-YYYY".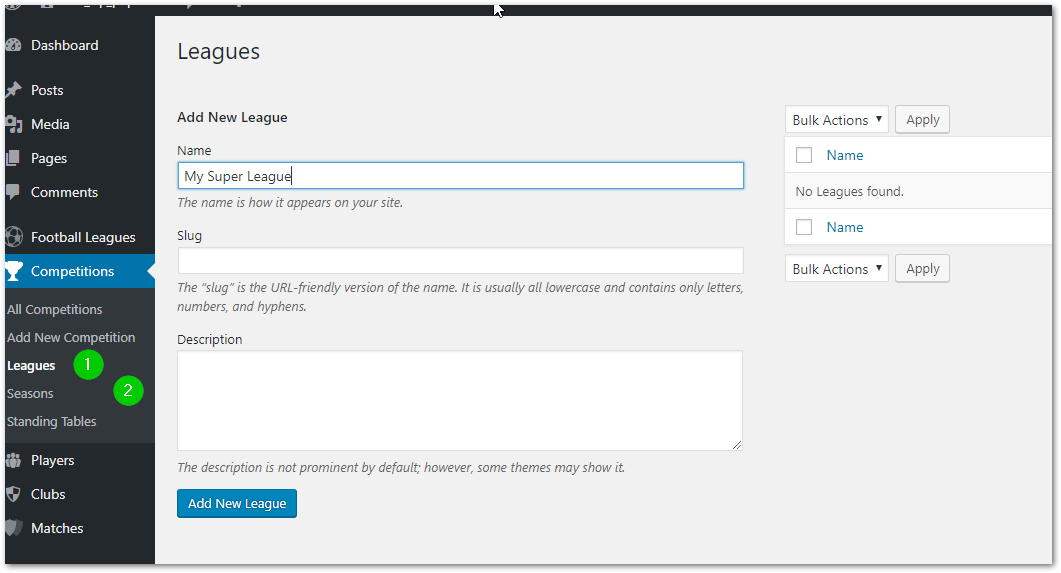 STEP 3 >> CREATE CLUBS
 Tips  You can use Data Import Tool for fast clubs creation.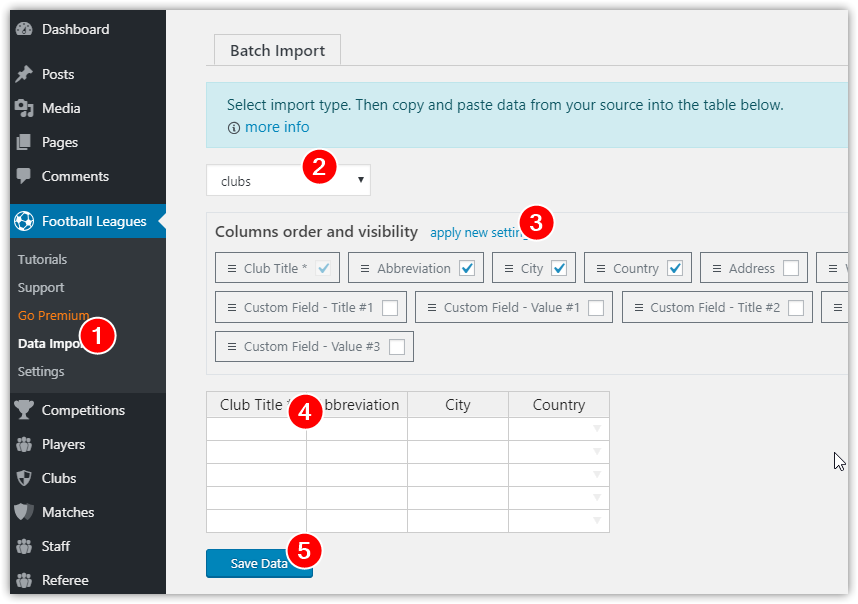 STEP 4 >> ADDITIONAL CLUBS DATA [Optional]
Highly recommended, if you create clubs with Import Data tool, add more info for each club.
Go to Clubs and populate General and Media tab.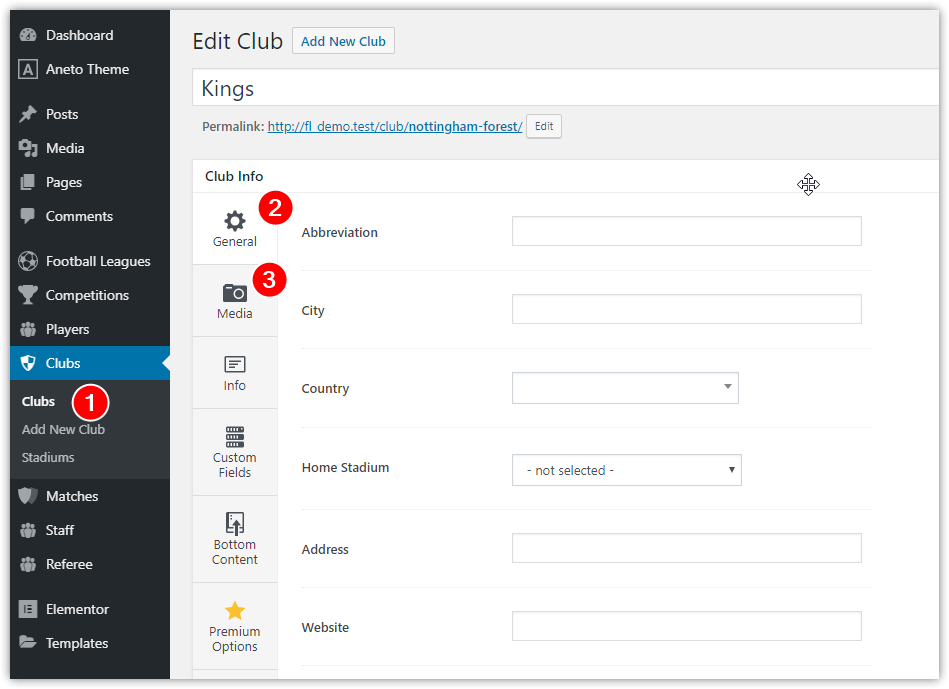 STEP 5 >> CREATE COMPETITION AND ASSIGN CLUBS TO IT
Go to the Competition >> Add new competition
Enter the competition title and fill General competition tab.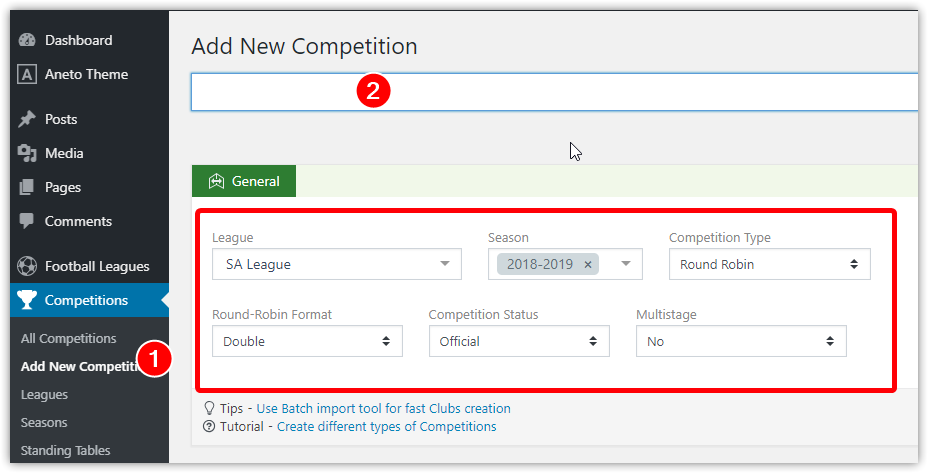 Then create as many groups as needed and assign clubs to it.
Click on COG icon to open clubs selector.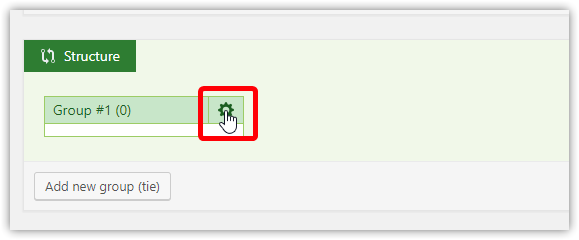 Select group clubs and save the data.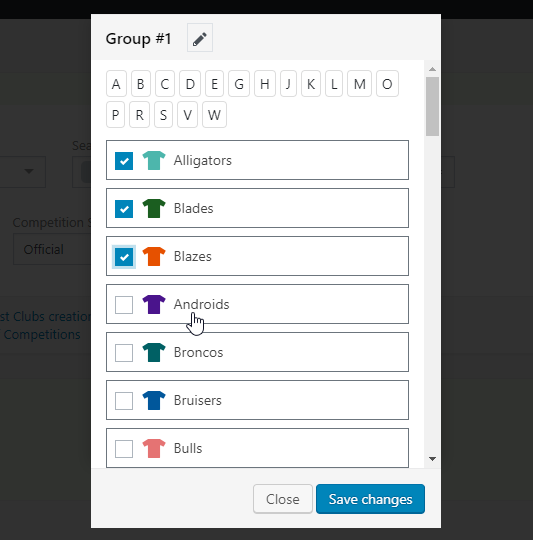 If your Competition Type is "Knockout" you are able to set several rounds. Clubs selector, in that case, is limited to two clubs only.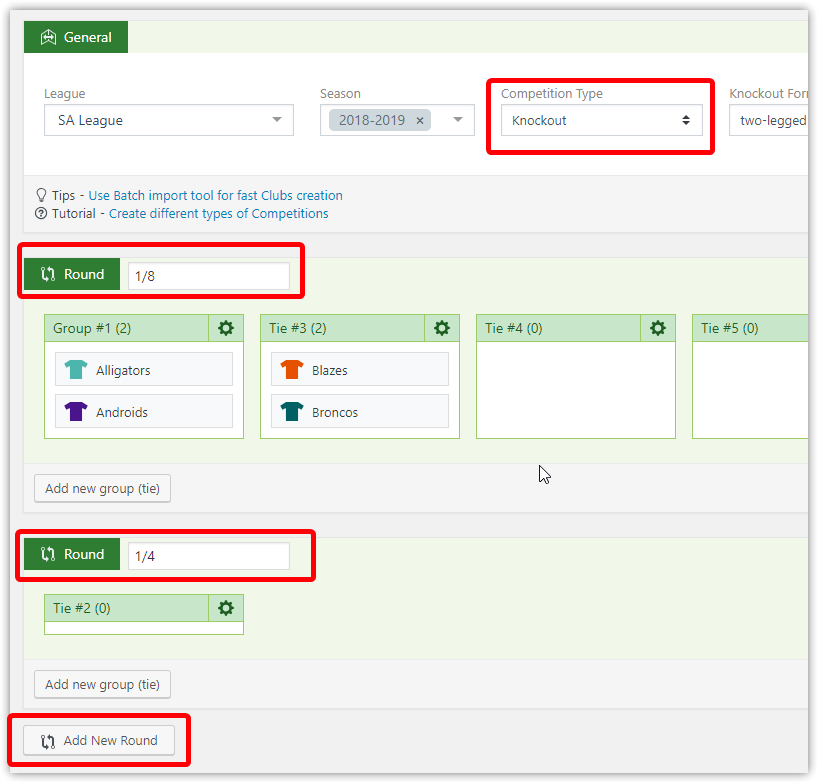 STEP 6 >> CREATE STANDING TABLE [Optional]
If you create competition with "round-robin" type, you have to create a standing table for it.
Go to the Competition >> Standing Tables. And click Add new standing table.
Then enter Standing table title, select competition, and group and click Select button.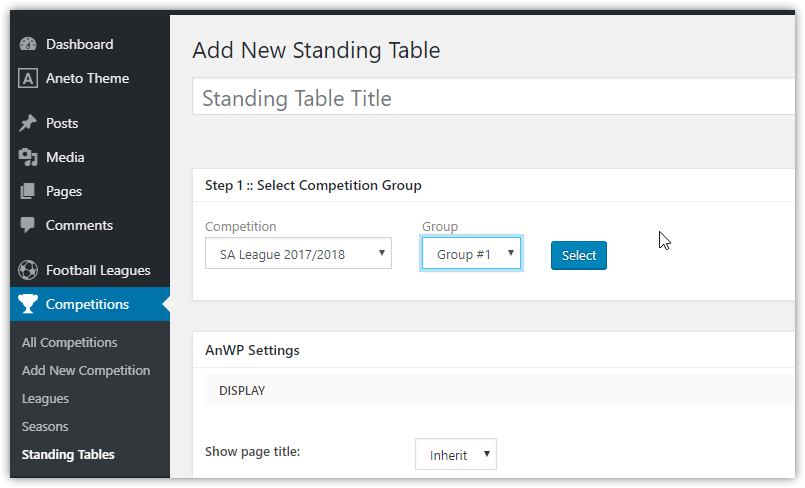 List of Clubs will be fetched automatically from the configured competition.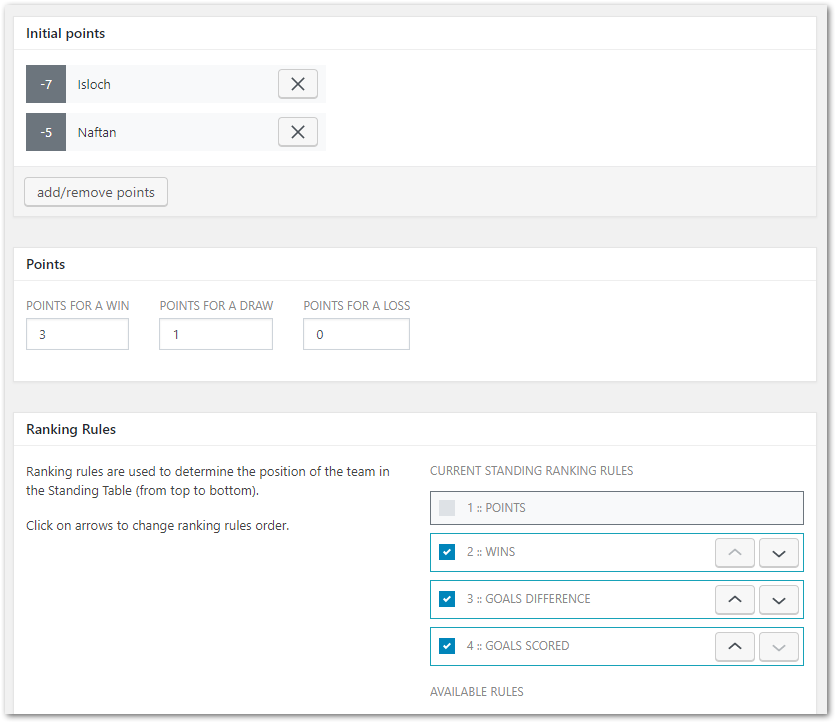 Set initial points (if needed), custom colors and ranking rules.
STEP 7 >> CREATE PLAYERS
You can create players one by one. Go to the Players >> Add new player.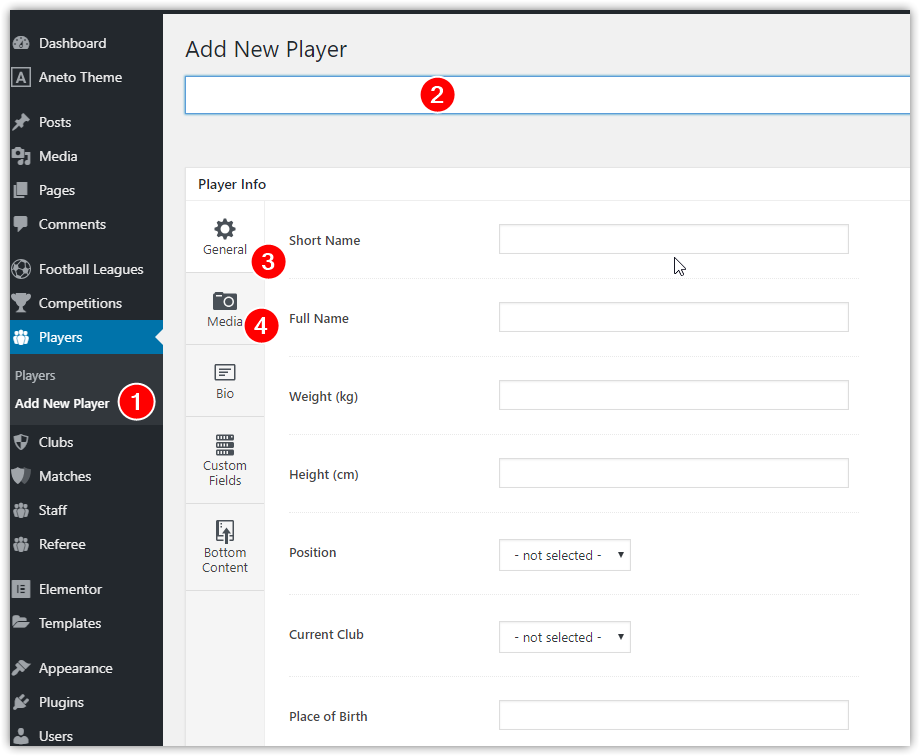 Or you can use Data Import Tool for fast creation.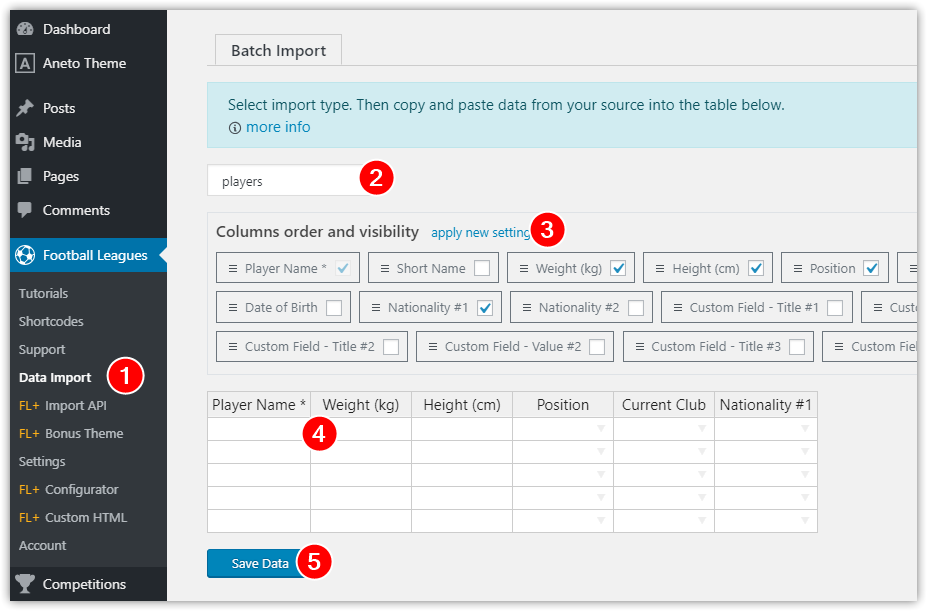 STEP 8 >> POPULATE CLUB SQUADS
Go to the Clubs and select the appropriate club.
Find Club Squad metabox and click Edit squad. Select players for the current season.

 Info  Players with "current club" parameter equal to the current edit club, will be in the top of the list.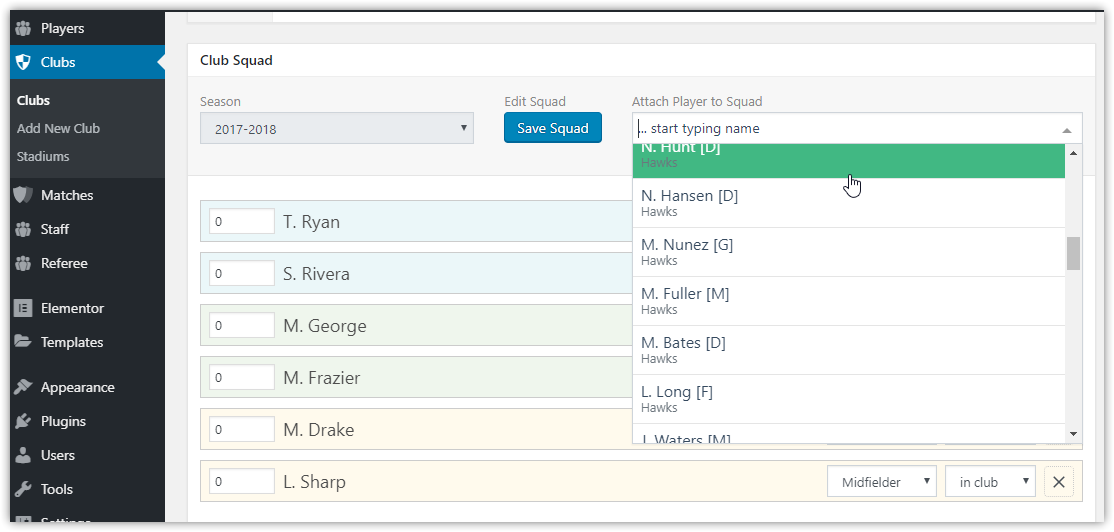 Then change players order, number, position or status ( in the club, on loan, left team ).
STEP 9 >> CREATE MATCH
Congrats 🏆! You are ready to create your first Match.
Go to the Matches >> Add New Match. Fill Match Setup metabox and click Save and Continue.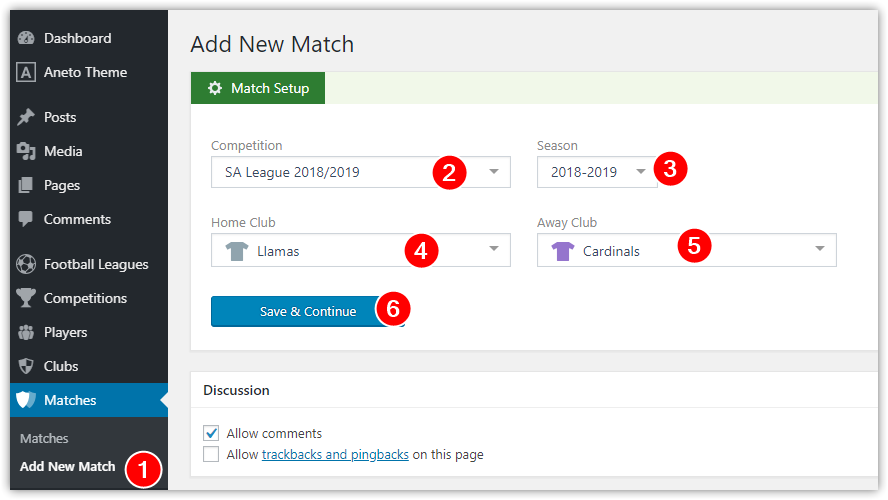 Then fill Match data on Match edit page.